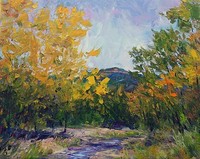 Steven Boone

Steven Boone embarked on a prolific art career after graduating from the Maryland Institute of Art in 1976. Steven Boone is known for creating bold landscapes in an impressionistic style using just a palette knife. Steven Boone's impressionistic approach of loose style painting creates images with an unrivaled sense of energy and power.

Steven Boone talks about his work saying, "The main thing is that each of my works have vigor, and that my knowledge is expressed... the knowledge I have gained from years trying many approaches and techniques." Steven Boone is constantly experimenting and learning new techniques, he feels that this is what allows him to keep his paintings fresh and interesting.

Remember every time you purchase a Steven Boone artwork over $995, shipping is FREE in the continental U.S. and there is NO SALES TAX when you purchase outside of Colorado. We SHIP WORLDWIDE and offer Layaway for Steven Boone art.