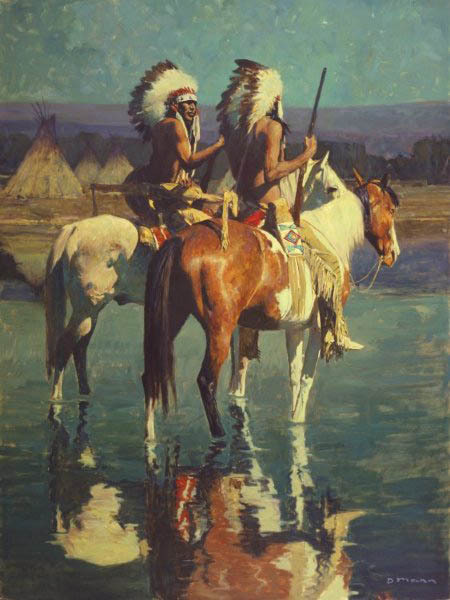 David Mann's life focus has been his interest in the Native American culture, horses, and art. As a child, David Mann collected any Remington and Russell prints he found along with books illustrated by Will James, Paul Brown, and Wesly Dennis.
David Mann knows his subjects well from studying the history and culture of the Western Indian tribes. Born in Utah, David Mann lived among the Southwestern tribes during a two-year mission in New Mexico and Arizona. During Mann's time with the San Carlos Apache, Navajo, and Pueblo tribes, Mann absorbed layers of meaning that give depth to the human stories he tells. This unforgettable and invaluable time spent with the Indians allowed David Mann to experience first-hand the stories, dignity, and culture magic of their lives. David Mann's paintings are alive in rich colors, remarkable illusion of day and moonlight, and energetic or quiet compositions.
Remember there is NO SALES TAX when you purchase outside of Colorado. We also offer deals on domestic and international shipping through UPS/FedEx. Don't forget to ask about our Collector's Financing Program through Wells Fargo to make payments stress free.