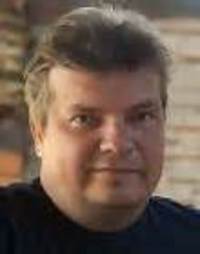 Born in Moscow, Russia in 1965, Dmitri went on to graduate from The Stroganov Academy and Institute of Arts with highest honors and subsequently became a lifetime member of the Moscow Union of Artists.
Dmitris exemplary credentials and early successes earned him permanent exhibitions at galleries in Paris on the Rue St. Germain and in the United States. He has also been given one-man shows in Russia, Germany and Scandinavia.
Dmitri Annenkov is unique among the still-life artists of the new millennium. His compositions range from childrens subjects to sophisticated wine paintings, appealing to the most discriminating of collectors.
Annenkov is a master of art. His extraordinary paintings are achieved by a blending of design with colors and textures - to gain a balance between animate and still forms. His resulting compositions captivate the senses with his passion for detail and sensitive subject matters.
With great skill and patience, Dmitri develops his time-consuming compositions that appear deceptively simple, but are actually quite complex. He has a remarkable ability to take a two-dimensional canvas and create objects that are totally lifelike. Looking at his hyperrealist still life paintings makes one want to reach out and touch, or take right from the canvas, whatever they depict. They are extraordinarily real and alive.
Dmitris style of painting has evolved through the years, to the point where he now favors realism, following the best tradition of both Russian and Western European Photo Realism.
Ever progressing as an artist and seeking to improve his already significant talent are motivations driving Dmitri ever onward! He will never be satisfied with what others already consider to be great.
Dmitris artwork completes the homes and offices of private collectors and major corporations across the globe. Russian President Vladimir Putin respected Annenkovs work so much that he once gifted an Annenkov still life painting to Edward Shevardnadze, who at the time was the President of the Republic of Georgia.
Thomas Charles Editions is pleased to offer exceptional oil paintings and giclee prints by this stalwart and remarkably gifted artist.