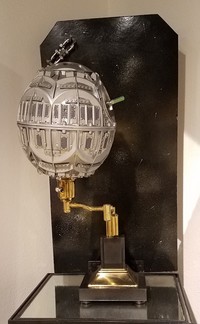 Gary Weston recycles other peoples discards into thought-provoking art.
Most artists, when asked about the people whove inspired them, will mention painters or sculptors. Not Gary Weston.
The former math teacher cites such people as Nikola Tesla, the inventor who lived in Colorado Springs in 1899-1900, and Rod Serling, the creator of The Twilight Zone. Mix in horror writer Stephen King, the Hatfield-McCoy feud, Alcatraz and the Philadelphia Experiment, and youve got Westons sculpture collection, which he calls Night Gallery, after another Serling series. Not surprisingly, the only artist he mentioned as an inspiration is Salvador Dali, the surrealist Spaniard.
Along with the math background, I took a lot of science in high school and college, Weston said. I grew up watching science fiction and horror movies. I was fascinated. Everybody else would be in bed and Id be up until 12 or 1 oclock at night, scaring myself.
Westons sculptures, mostly chairs made with found objects, are part of the launch party for the Peak at the Arts: Global Artists Exchange Festival, 7 p.m.-midnight June 4 at the Sonterra Restaurant Gallery Space, 28B S. Tejon St. Hell have a few pieces in the festival itself, which will be Oct. 8 and 9 at the Pikes Peak Center.
How did a former math teacher and lifelong science fiction aficionado end up as a sculptor?
Weston, who had also taken art classes along the way, started writing and illustrating childrens books after he retired from teaching. Then, one day in 2009, he walked into an antiques store.
I see this chair from the 50s, this stainless-steel frame, they made such nice furniture back then. But the vinyl was pretty much trashed on it. Next to it was this wooden magazine rack. And for some reason, all of a sudden, I got this connection. I thought, Stainless steel and wood. I bet I could make a chair out of that. So I started working on it. And it fit perfectly.
Weston also researches and writes the stories behind his sculptures. For that first piece, The Dali Chair, hes imagined an unholy alliance between Dali and a scientist working on teleportation.
I try to put as much fact into it as I can, but kind of weave some fabrication and fiction throughout the story to make it more interesting. I get as much fact as possible, about 75 to 80 percent fact on each story. So that somebody looks at these and reads them, they start looking at these dates and numbers, they start to think, Ah, this is true and this is true, this must be true stuff. And so people have to read the stories that go with them it makes the piece even more interesting. It makes a connection to something famous.
Westons ideas often come to him while hes running or sleeping.
I have a pad by my bed. If I wake up in the middle of the night and I get this great idea, I wont get back to sleep until I write it down.
At heart, Gary Weston is still that kid watching horror movies, transforming his dreams into the stuff of nightmarish art.