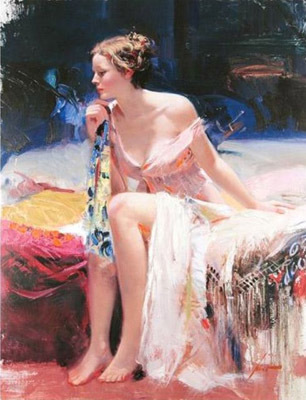 PINO - Italian artist, Pino Daeni's art and canvases elicit feelings of warmth, nostalgia, love and family. His paintings are often set on vibrantly sunny beaches on the Mediterranean where he grew up. Pino (born Giuseppe Dangelico) is noted for his exceptional ability to capture the movements and expressions of his subjects - a talent which has brought his artwork a worldwide following and private commissions to do portraits.
Pino's early paintings featured soft romantic characters mostly women dressed in flowing skirts and dresses; and these caught the attention of both Dell and Zebra Book Publishers. In 1980 Zebra commissioned him to do his first book cover; his popularity grew within the literary community and he became the artist-in-demand for Zebra, Bantam, Simon, and Schuster, Harlequin, Penquin USA and Dell. To date, Pino has illustrated 3,000 books; his style has dominated the market.
Pinos technique, his warm and exciting colors and the subtle, but simple approach to his subject, are the reasons why his original paintings, his hand-embellished limited edition serigraphs, and his giclees are sought-after by collectors throughout the art world.
Remember there is NO SALES TAX when you purchase outside of Colorado. We also offer deals on domestic and international shipping through UPS/FedEx. Don't forget to ask about our Collector's Financing Program through Wells Fargo to make payments stress free.