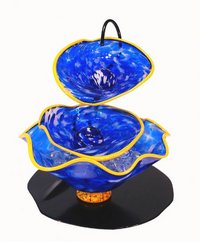 Tranquility Glass is the creation of Artists Brian Gingras and Melissa Bernier. Originally started as Brian Gingras - Hot Glass the name was changed in 2007 when Melissa Bernier became co-owner and partner, bringing a whole new direction to the studio. Melissa's new ideas combined with Brian's original series gives Tranquility Glass a unique and diverse look not found in most studios. Together, the two owners now create work with a single voice and with a common goal of designing glassware that is both decorative and functional.
Brian Gingras started working with hot glass in 1998 in Sterling MA as the owner of Sterling Art Glass. Brian moved on from Sterling in 2000 and for several years blew glass at studios throughout New England before settling into his custom built studio in Leominster MA. He now shares this studio with his partner Melissa Bernier and glass artist John Collins. Together they work to create one of a kind works of art, decorative sculptural glass, functional glass objects, and ornamental glass. Work created by Brian, Melissa, and John can be seen at galleries and gift shops throughout the United States.
Remember there is NO SALES TAX when you purchase outside of Colorado. We also offer deals on domestic and international shipping through UPS/FedEx. Don't forget to ask about our Collector's Financing Program through Wells Fargo to make payments stress free.