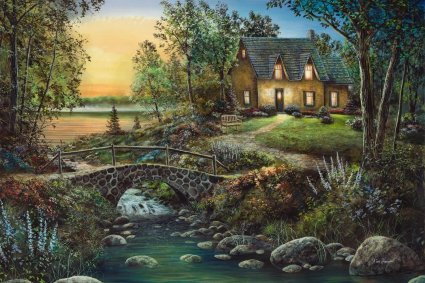 In 1972, at the age of twelve, Jim was diagnosed with a degenerative eye condition called Stargardts. This eye condition has left Jim legally blind. Despite Jim's visual limitations, he has learned to create beautifully detailed images with the use of magnifiers and low-vision aids. As Jim paints in the detail work on a painting, he is working only one or two inches away from the canvas. Yet, while he painstakingly adds these details, he has a clear picture in his mind of the final product.
Jim believes that due to his vision, he spends more time on a painting adding more detail than many other artists. He has spent up to four months on a single painting.
Since the release of his first image in 1987, Jim has produced nearly 100 limited edition prints. Many of the editions are sold out. His reputation for detail and his distinctive, colorful landscapes, have proven to be very popular with art collectors across the country.
In recent years, Jim has been commissioned to produce several paintings, which have been featured by Ducks Unlimited, Pheasants Forever and The Minnesota Deer Hunters Association. The limited edition prints are being used to raise money for these conservation organizations. Hansel has been honored with many other awards to his credit. He believes that hard work and perseverance is why he has been so successful.
Remember there is NO SALES TAX when you purchase outside of Colorado. We also offer deals on domestic and international shipping through UPS/FedEx. Don't forget to ask about our Collector's Financing Program through Wells Fargo to make payments stress free.