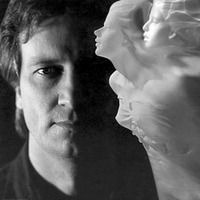 Born in California and trained as an architect, Michael Wilkinson started his artistic career in New York in 1979. In 1985, Wilkinson transitioned from working uniquely in bronze to working in the young medium of cast acrylic. A forerunner in the medium, Michael Wilkinson uses acrylic to create dreamlike worlds, communicating complex themes while still incorporating realism in his art. Unlike the traditional, these acrylic sculptures have no beginning and no end; no back and no front. They are viewed in a new way; studied and observed in their entirety from the inside and the outside. Working for nearly a decade in acrylic, Michael Wilkinson constantly expands his talents to sculpt "light" in original ways.
"My acrylic sculptures are a blend of figurative and abstract forms, a fusion that I enjoy creating and to which acrylic is beautifully suited. I start out with clay, a lump of earth, but end up having created an ethereal world infused by light. A wonderful aspect of acrylic sculpture is that it is clear and has an interior: a "fourth dimension" that allows the viewer to look into the artwork. This characteristic offers the greatest challenge in working with the material because the original sculpture model is opaque clay or plaster. While creating the model, I must envision through the plaster what is going on inside the work - the reflections and refractions as they will appear in the final clear artwork."
Remember there is NO SALES TAX when you purchase outside of Colorado. We also offer deals on domestic and international shipping through UPS/FedEx. Don't forget to ask about our Collector's Financing Program through Wells Fargo to make payments stress free.