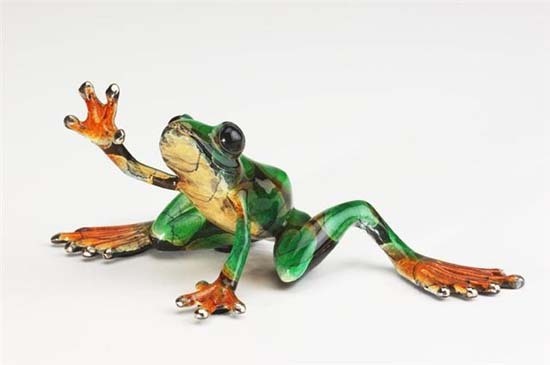 Joe Quillan was only 25 years old when asked to exhibit his sculptures at the Vorpal gallery in San Francisco in 1982. He became the youngest artist to exhibit sculptures of marine life at an internationally recognized gallery. At 26, he won the prestigious Mystic International Award of Excellence from the Mystic Gallery in Connecticut, and shortly thereafter, he exhibited in Maui, Hawaii. At 27, he sculpted the symbol of the Pacific Peace Awards for Sydney, Australia - a dolphin swimming with an olive branch that circled the earth.
He has since had commissions from many ocean and environmental groups raising awareness of the marine environment's fragile balance. He has been involved in numerous fund-raising benefits for local and national education groups including the American Cetacean Society, Actors and Others for Animals, and several Montessori schools.
He has also studied anatomy at the U.C.L.A. School of Medicine which accounts for the sensitive beauty of his marine life sculptures. His great love for ocean creatures and his skills as a sculptor have made him renowned by private and corporate collectors around the world.
Remember there is NO SALES TAX when you purchase outside of Colorado. We also offer deals on domestic and international shipping through UPS/FedEx. Don't forget to ask about our Collector's Financing Program through Wells Fargo to make payments stress free.