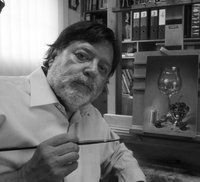 Javier Muli, known simply as Javier to collectors around the world, was born on December 24, 1957 in the artistically inspired village of Alcoy (Alicante) Spain. Upon the age of 14, Javier developed a drive for painting and by 18 he began his formal training. From 1973 1976, Javier studied at the School of Mila Gmez, studying under the artist and teacher Gmez personally. There he received a Fourth Degree Certificate for his talent and creations.
When asked, Javier describes his work as realism and has discovered great passion in depicting his favorite still life subjects flowers and fruit. His style lends perception, elegance and simplicity to the objects he portrays. By identifying the beauty and small details of the world around him, a magnificent still life takes form in Javiers paintings. His paintings are simple yet striking, using monotone backgrounds as a fresh slate to contrast the natural reflection, color and light of his still life composition. Recently focusing on items of Americana, Javier has found a passion in creating beautifully composed still lifes out of everyday items.
Art History professor Vincente Mart Vao states, In the course of his journey as an artist, Muli has developed stylistically in the direction of hyper-realism, which gives him a language to disclose the tactile and chromatic textures of matter and enables him to attain astonishing effects of translucence in his depiction of water in a glass or drops of water on a roses velvety surface.
Remember, there is NO SALES TAX when you purchase outside of Colorado. We also offer deals on domestic and international shipping through UPS/FedEx. Don't forget to ask about our Collector's Financing Program through Wells Fargo to make payments stress free.