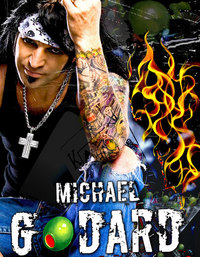 Michael Godard Limited Edition Fine Art

Michael Godard in Person July 25th - One Day Only!! For more information: Please Click Here

Michael Godard is widely recognized as one of the most versatile artist of our time. Godard has appeared on ABC, NBC, Chris Angel, Inked and the Christopher Lowell Show on the discovery Channel. Michael Godard was commissioned by the Double Platinum Rock Band "Dishwalla" to do the covers of two of their albums "Opaline" & "Dishwalla". From the mind of an artist (Michael Godard) who does not drink, comes his vision of fun that fits most people's lifestyle. Godard's more popular series "Don't Drink and Draw" features animated olives and martinis, the art a commentary of our times as well as realistic masterpieces. Although the themes vary, Michael Godard's art changes the face of even the most traditional subjects creating mood and mystery on canvas.

Remember everytime you purchase a Michael Godard over $995 shipping is FREE in the continental U.S. and NO SALES TAX outside of Colorado. We ship internationally! We also have a layaway program so you can reserve your own Michael Godard piece today!