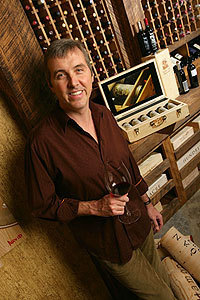 Thomas Arvid

Through Thomas Arvid's strikingly realistic compositions of wine, Thomas Arvid has redefined the modern still life, setting an unmatched precedent in the art world. Thomas Arvid has achieved incredible success and national acclaim with his still life compositions of wine and the rituals that surround it. Thomas Arvid unites the aesthetics of art and the sensual complexity of fine wine in his large-scale paintings. Thomas Arvid has a talent for portraying light and color. Uniting an eye for photo-realism with a genuine talent for abstract composition, Thomas Arvid offers an innovative commentary about a familiar subject.

Thomas Arvid is a Detroit native with no formal art training who never dreamed of making a career as an artist, but was encouraged to find a secure job and dedicate himself to the blue collar work ethics of his home. Though drawing, painting murals and doing illustrations were a part of Thomas Arvid's childhood, Arvid thought the only opportunities in the industry were commercial art, sign-painting, or drafting. Thomas Arvid moved to Atlanta from Detroit in 1986 and found new techniques and inspirations to work with oils, and eventually his discovery of the beauty of wine as a vehicle for his artistic vision.

Thomas Arvid is awed by the response to his work, "Wine is a great subject because people are familiar with it; they really connect to it. My paintings are really the landscapes between people sharing wine - it's amazing that my collectors find personal fulfillment in my work, especially when I'm just doing what I love."

Acclaimed for its ability to capture a traditional subject in a startlingly new style, Thomas Arvid's work has been featured in many influential publications, including Wine Spectator, Decor, Points North and Art World News. Thomas Arvid was named one of the top "25 Artists You Should Know" by US Art magazine. Thomas Arvid's talent and influence on the art world were the focus of a recent Art Business News cover story. Furthermore, wineries such as Silver Oak Cellars, Far Niente, and Diamond Creek Winery collect Thomas Arvid because he translates the craftsmanship of wine to canvas. Doug Shafer, of Shafer Family Vineyards, likens Thomas Arvid's skill to that of a winemaker, "Arvid's style is big and bold, with enough selected detail and softness to create a sense of balance. . . this blend of elements is precisely what winemakers hope to bring to their top vintages."

Remember every time you purchase Thomas Arvid artwork over $995, shipping is FREE in the continental U.S. and there is NO SALES TAX when you purchase outside of Colorado. We SHIP WORLDWIDE and offer Layaway for Thomas Arvid art.