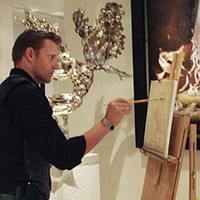 Glen Tarnowski is the creator and founder of Modern Allegories... An art manner he coined and established to represent the use of common contemporary elements, placed in unnatural positions, on the canvas, to weave an unique visual story, to engage the view to delve deeper and read the significance of the artwork. Tarnowski executes his own interpretation of the old Masters, who used religious and recognized everyday symbols to express a deeper and meaningful life message. Tarnowski, uses Whimsical, Paradoxical and Inspirational themes to speak to a deeper profound message. Unlike Surrealism, which in many cases has a dark and morbid intent, Modern Allegories employs humor, contradiction and absurdity to reveal a more personal, uplifting and encouraging message. It will never have a dark, macabre, or negative theme.
From a childhood immersed in the beauty of nature, a youth surrounded by the classical sense of Renaissance-era European art and architecture, and a lifetime devoted to art as the highest form of expression, Glen Tarnowski brings stunning vitality, depth and emotion to his still-life paintings.
Influenced by an intense formal education in art, pain-staking study of the works of Old World Masters Rembrandt Van Rijn, Peter Paul Reubens and Jean-Baptiste Simon Chardin, and ongoing study with contemporary masters David Leffel, Sherrie McGraw and Dan McCaw, Tarnowskis use of Chiaroscuro (Italian for clear-dark - it is a term in art for a contrast between light and dark) techniques provide his still-lifes with a vibrant dichotomy of old world feeling and contemporary realism.
His formal education in oil painting began at the age of eight when his innate talent for painting and unique perception of color revealed itself in his first art class. He continued his formal art education at California Lutheran University and The Pasadena Art Center College of Design, separated by extensive self-study in the art capitals of Europe. He later returned to California Lutheran University to teach painting.
Tarnowski's Modern Allegories has found wide acceptance in permanent collection in numerous major art museums:
The National Art Gallery of Australia,
The National Art Gallery of Victoria, Australia.,
Coral Springs Museum of Art,
Boca Raton Museum of Art,
Aspen Museum of Art,
Brooklyn, New York Museum of Art,
MOCA Hot Springs AR,
University of California Dominquez Hills,
The Biblical Arts Center-Dallas, Texas.
Published artist with articles with a national audience: Artist Magazine, Pulse Magazine, Art World News, Art Business News. Recipient of the Angel Award for Best Ethical Artwork from The Academy of Motion Picture Arts and Sciences. He was the recipient of the 1996 Angel Award from the Academy of Motion Picture Arts and Sciences (equivalent of the Oscar) for Best Motion Picture Graphics for the film 'The Pale Rider' in 1996, a finalist in the 1997 Artist Magazine International Competition, the 1998 Oil Painters of America National Show in Washington, D.C. and the 1999 Oil Painters of American Regional Show in Chicago, Illinois. He was also the featured artist in the October 1999 issue of The Artists Magazine.
In Private collection with notables include: Mel Gibson, Aaron Spelling (Executive Producer,) Ted Turner, Bill Wyland, Lonnie Anderson, Barbara Eden (Actress), Jane Seymour (Actress).