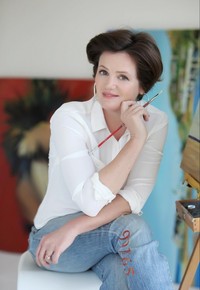 Kathleen Keifer (born Chicago 1963) is a primarily a Colorist. This is a consistent point of view across her contemporary landscapes, pop art, and figurative work. She began painting at a young age, and studied art at the University of Notre Dame and the Art Institute of Chicago. Her entrance into the fine art world in 1996 was a sold-out solo show at McLean Gallery in Malibu, California. Her next ten Malibu exhibitions launched her into the LA art world, with paintings featured in LACMA and MoMA.
Kathleen Keifers art is now represented in galleries all over the world. She is widely collected by prestigious public and private collectors. Her works appears in the collections of James Cameron, Mary Looker, Jack Nicholson, Kelly Clarkson, Kevin Nealon, Barry Manilow, Hilton Hotels, Sidney Austin, Citigroup, Walt Disney Studios, and the United States Historical Society.
In her most recent work, she has arrived at a distinctive style of overlapping colors and textures. This was described by LA magazine as fluidly capturing pop culture in a tapestry of layered color. Kathleen Keifer is married to Jim Keifer, one of the most successful game inventors in the world. Their three daughters have successfully launched their own careers in the fields of writing, game invention, production design, fine art, and public relations.
Remember, there is NO SALES TAX when you purchase outside of Colorado. We also offer deals on domestic and international shipping through UPS/FedEx. Don't forget to ask about our Collector's Financing Program through Wells Fargo to make payments stress free.